COSMIC BLAST!
the new sci fi from MORE-on
Set in a universe at war, an abandoned spaceship in a radioactive junkyard becomes a high speed delivery vessel for a ragtag crew of semi legal space truckers.
Watch Trailer Here
https://www.youtube.com/watch?v=iAcQMfyRB0M
This Book is Cursed

Set a year after the events of "This Woods is Cursed" we find Haus returning to the old Haney logging camp road in hopes of returning his memory. Unfortunately It is the next big mistake in his life.

This Woods is Cursed





The Man with the Golden Hand


One man is transported from the year 2088 to 2015, he does not know why. However He is being hunted by "The Corporation" and there are only two things to keep him alive, His Revolver, and his talking golden hand. This is A time travel action adventure sci fi you will want to watch again and again and again.

WATCH TRAILER HERE
https://www.youtube.com/watch?v=S_aDgtAWAh0
VAMPIRE TICKS FROM OUTER SPACE
A film Based on the Short
Space aliens accidentally deliver a crate of small dangerous blood sucking monsters to the wrong planet. That planet is Earth, and the curious little biped beings known as humans open it..... and find out that this invasive species finds human blood irresistible.

WATCH THE TRAILER HERE
http://www.youtube.com/watch?v=882eJhYGHXc
YETIS
5 Interns and a wolf expert venture into the unknown to find out why no wolves have been spotted in one remote forest. They find the reason, and it will not let them leave.

Yetis was made in honor of the early 70's and 80's creature films like "The Legend of Boggy Creek", and "Predator". It has suspense, action, and emotion all mixed in with the humor that only MORE-on can provide. Dramatic scenes of loneliness, fear, and utter hatred lead up to an epic ending which lets us know, sometimes you just have to let things go. Yetis uses actual footage of the legendary creature.

WATCH THE TRAILER HERE
http://www.youtube.com/watch?v=_TZiYT_UXdM
Powered by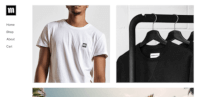 Create your own unique website with customizable templates.